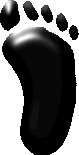 FOOTY Class R/C Sailboat
Official Class Association of IFCA

---
Footy Plans
Below are several sets of free Footy plans. Our latest addition is the BUG3, a highly successful design from Roger Stollery in the UK. There's also a new version of "Razor" from Bill Hagerup. He claims the "Razor3" is much better than the original "Razor", but I'm leaving the old plans on the website too. Then there's Angus Richardson's "Moonshadow", followed by Mario Stiller's "Papaya III", Bill Hagerup's "Cobra" and Brett McCormack's "Bob About".

Some of these designs are relatively simple to build, others are rather complex! (For an even simpler boat, check out visit Wayne Russell's Bottle Yacht web pages (built with a plastic soda bottle!).

See also the Articles page for more inspiration. The WoodenBoat store is also carrying Footy plans for two boats now, search for Brando and Presto.
---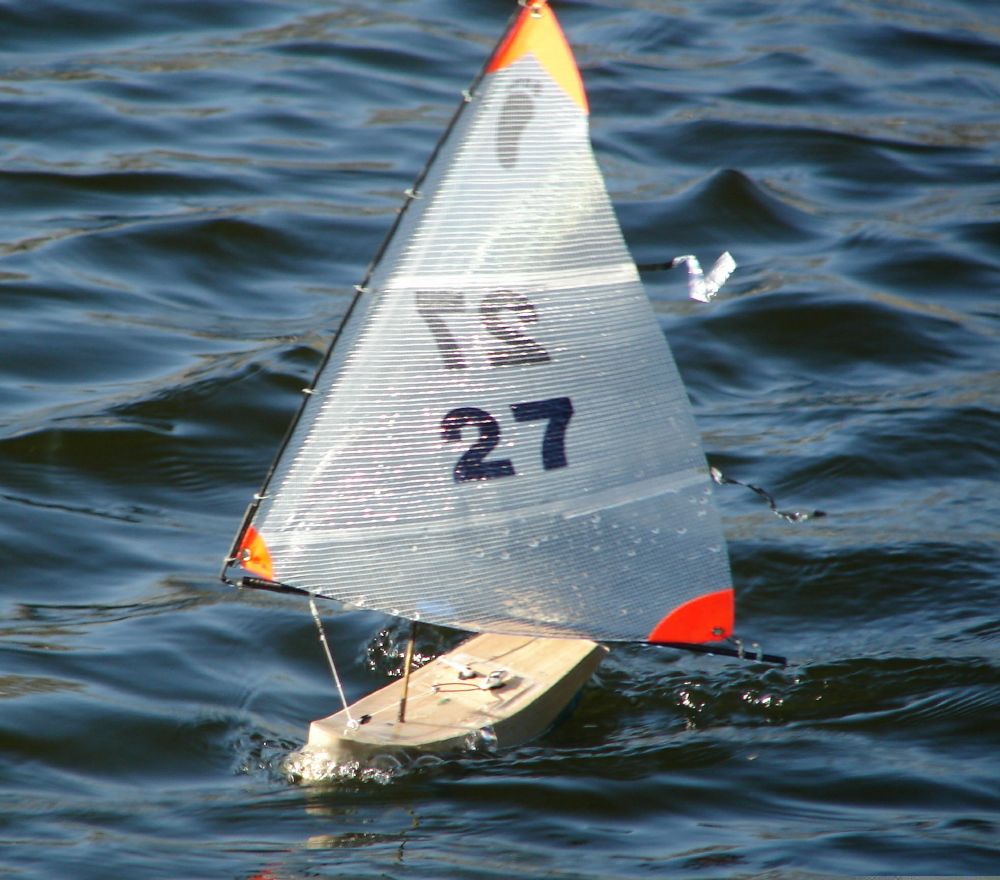 Ranger
Bill Hagerup writes:
For those interested in building Ranger, the best source is my article in ModelYachting magazine (Spring 2011, No. 163). The six-page article includes a lot of build pics and very nice drawings done by Jim Linville from my rough originals. The magazine has been distributed to AMYA members, and is available for others from the Ship's Store at theamya.org.

Given the difficulty of international mailing, etc., I am posting my originals as requested for those who can't get the magazine. They aren't as pretty, but they are what I build from. Designed displacement is 300 grams. I hope you enjoy the boat.
long thread on rcsailing.net with more information.
---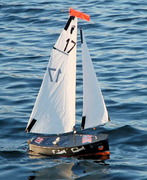 Awk
This 14-page PDF describes Roger Stollery's "Awk" design, with some discussion of "Ant" as well.
Awk plans
Moulding foils with resin
Cassette radio installation
Simple soft sails for small rigs
The Humble Bowsie (a design for slippery line)
Awk plans and article (3.4M pdf)

---
Bug 3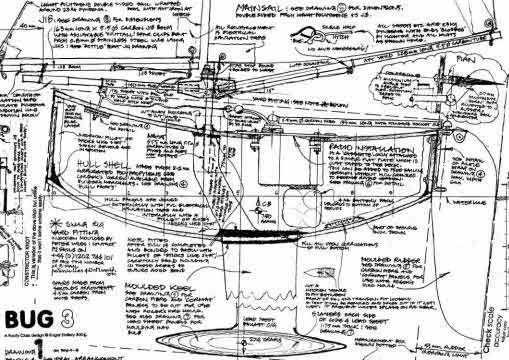 This 11-page PDF includes plans for Roger Stollery's Bug3, with an article from Charlie Smith.
Bug 3 plans
Moulding foils with resin
Simple soft sails for small rigs
The Humble Bowsie (a design for slippery line)
Bug 3 plans and article (2.1M pdf). Here's a PDF of the plans alone (1.4M pdf), with a clearer copy of the first plans page.

---
Razor 3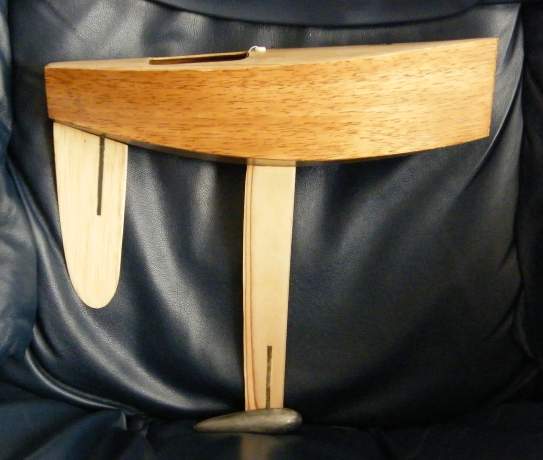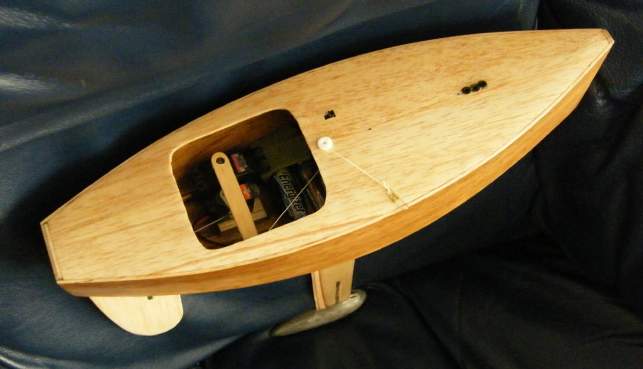 Bill Hagerup updates his Razor design with the Razor3. Here's how he compares the two:
Razor3 is a better-handling boat than the original (which is now rather old) and the plans are more complete. I also think the narrower beam makes it easier to build. Razor3 is the boat I sailed to second place in last month's Euro GP in the UK.
Here are the plans for the new Razor3.

---
Moonshadow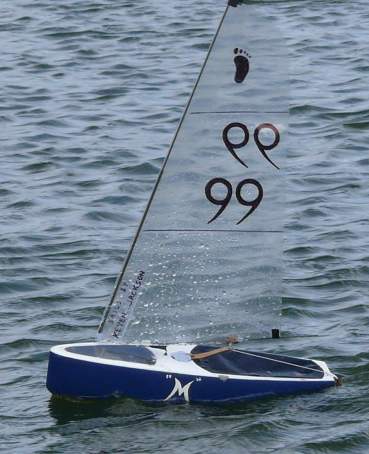 Angus Richardson has put together all the detailed measurements of his race-winning Moonshadow. Construction involves building a plug from the supplied dimensions and then laying up fiberglass over it. Angus also provided detailed specification for the bulb. Read the Moonshadow article.
For the advanced builder only!

---
Papaya III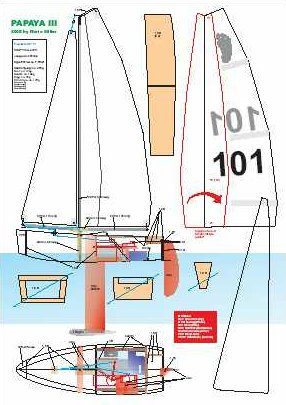 Mario Stiller sends us this beautiful documentation of his Papaya III design. The plans consist of two PDF's:

The plans include details of the one-piece swing rig and it's method of construction.

---
"Cobra"
Bill Hagerup writes:
"Since Razor is a few years old, I thought it was time to post a design that reflects my current thinking. This is a set of plans and a couple pics for my Cobra (the prototype for my entry in the Liverpool Challenge in July, 2008.) It's a bit more complex than Razor, but a better performer, too. The plans are to be printed on 8-1/2 by 14 inch paper. The boat is 300 mm long when built to the plan. The other 5 mm is left for you to make a bow piece to round off the nose as in the pics. I'm posting the same plan I used to build my boat, which means the interior layout, electronics, and rig are left to your preference. Interior bulkheads are not required. Please don't email me for more detailed info...there isn't any! You can refer to the many pics on this site for reference on how others have fitted out their boats. Scott Spacie has done extensive testing of this design, and he assures me that it floats. I hope you'll have fun with it."
Here are the PDF files for the Cobra Mk.1 Plans (5 pages), pages 3-5 are the actual hull panel shapes. Click on the pictures below for larger images.
---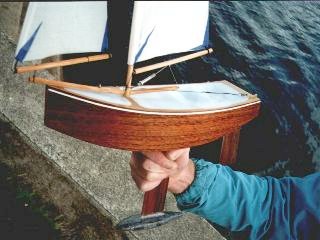 "Bob About"
There are a number of Footy plans available. Brett McCormack in New Zealand created one of the first Footys, the "Bob About". He has donated these plans free to the public. Print out the images below and enlarge them to the proper size (the hull should 12" long).
His mail-order plans are identical, but the panels and interior layout are printed full-size (sheet size: 16½"x11½").
---
"Razor"
In contrast to the "Bob About", the "Razor" has a more complex hull shape and fewer detailed instructions. Bill Hagerup used a freeware program called FreeShip to transform a complex hull form into flat panels (called "plates" in FreeShip). Here's what Bill has to say about his boat:
I call it Razor. It's intended to be easy to build, so it's a chine design, but I don't think its performance will suffer. I expect it to be a stable boat that is stiff enough to carry more sail than my Halfpint.

I built the hull you see in 3 hours. I spray glued the plans to some 1/32 balsa sheet and cut out the panels with a scissors. Then I taped the hull together and superglued the seams. It got a bit tricky at the bow when I glued my fingers to the hull.....but all worked out in the end.
Here the plan is presented as two PDF files. They should print out at the proper size if you put legal size (14") paper in your printer.
Other elements of the design, such as the layout of the internal components and the sail plan, are left up to you!
There's also another page of Razor photos, but of a slightly different model. These photos show a completed boat and rigging.
Be sure to email Bill and let him know if you build a Razor!
---