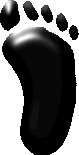 FOOTY Class R/C Sailboat
Official Class Association of IFCA

---
Razor Update
Bill continues to refine his Razor design. The best way to learn more is to visit the Yahoo Footy Group. Here are some extracts from one of his postings...

Bill Hagerup writes:
I get lots of inquiries about Razor, so here are the dimensions and some pics of the latest variation. Of course, Razor is always a work in progress, so I don't guarantee that it will stay this way!

Razor Dimensions:

Front Edge of Mast Box from Bow 100mm
Rear Edge of Mast Box from Bow 140mm
Center of Gravity for Fin/Bulb from Bow 165mm
Depth of Keel from Hull Bottom 170mm
Width of Fin at Hull Bottom 55mm
Depth of Rudder 90mm
Width of Rudder 50mm
Extension of Bowsprit/Bumpkin from Hull 75mm
"A" Rig Height 650mm
"A" Rig Jib Boom Length 210mm
"A" Rig Main Boom Length 180mm
"B" Rig Height 550mm
"B" Rig Boom Lengths 210mm

These dimensions are a starting point for your own thinking. Footys are a development class, so try something new. If it works, please tell us about it.

The pics show Razor with 2 different rigs. I've tried to include enough detailed close-ups so that builders can copy what they like. The "A" rig with the blue-trimmed sails shown here is from Dennis Desprois. Dennis's sails are far nicer than mine. The "B" rig shown below is my own creation...very low budget but works just fine.

The sheet arrangement is a simple double purchase...both sheets are anchored on a hook in the aft corner of the hull (under the little white deck patch) then they go through the servo arm, out the aft fairlead, then the jib sheet goes forward to the eye in front of the mast...the double purchase arrangement gives me just the right amount of sheet travel with the length of the arm pictured.
---