Paweł Dejnak's 2018 Footy Calendar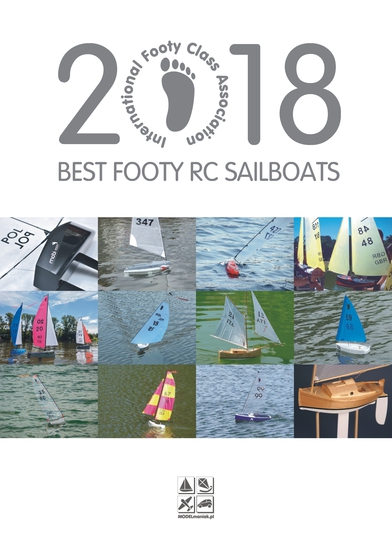 The Footy Registrar for Poland, Pawel Dejnak, is preparing a Footy calendar for 2018. No, it's not a list of Footy events, but 12 handsome pictures of Footys in the more typical wall calendar format. If you're in Europe and wish to enquire about buying a paper copy, contact Pawel at zpmmdk1@wp.pl". But he has graciously offered electronic versions of January & February for you to download. As Pawel himself says:
I am convinced that making them available (maybe even the return of photos to the Model Yachting magazine cover...?) would motivate other skippers to be more active - in promoting this class of models too (maybe in the future would create other national calendars, gadgets, T-shirts, etc ...?).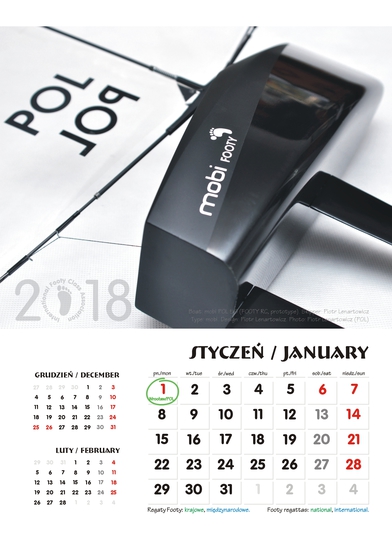 January:
In the picture adorning the first calendar card is the most refined in detail Polish sailboat from the Poznan studio of Piotr Lenartowicz (so far made only in one copy).
Although it is not often seen in regattas, it has already demonstrated very good nautical properties, giving its constructor a place on the national podium. It is worth remembering the author - probably we will see more than once interesting solutions and his photos from model shipyard.
This photo (just like the whole e-calendar) is prepared in A4 (+ 3mm offset), 200 dpi resolution.
You can use them for printing on a home printer in a quite decent quality.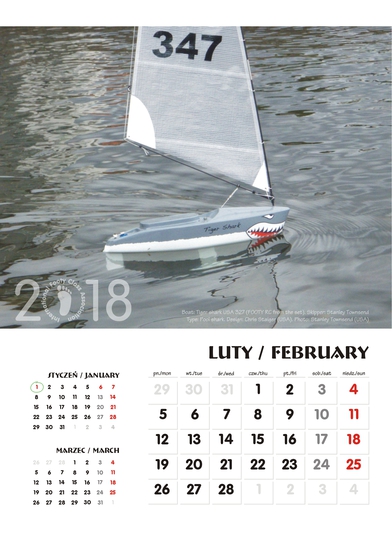 February:
The decoration of our calendar card for this month is one of the best models of the FOOTY class in the Americas, which was developed by Chris Staiger (USA), and in the form of kits for self-assembly produced by Dick McCoy (USA). This particular toothed basin shark was made by Stanley Townsend (also from the USA). More information, photos and links regarding this design can be found on Polish Footy Class Association website - modelmaniak.pl/category/footy-pol/footutrendy)
Click any image to download the full-size copy. And if this seems a little late to post a January calendar, blame the editor (me!) not Pawel!
More...